Cutting-Edge Technology from Carrier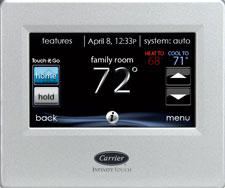 Updating your thermostat is not only quick, simple and cost-effective, but provides precision management over your HVAC system.  This translates into greater convenience, comfort, and energy savings.  Consider a programmable thermostat to accommodate your daily or weekly schedule. Consider a WiFi thermostat and experience a whole new level of possibilities.  The experienced specialists from B&B Heating & Air Conditioning are happy to explain the benefits and features of various models, offer recommendations, and complete accurate installation.
Improve convenience with innovative WiFi thermostats!
A WiFi thermostat provides total access to your HVAC equipment from virtually anywhere, at any time.  Your thermostat will even adjust indoor conditions based on the location of your smartphone, conserving energy when you're out, and welcoming you home to perfect comfort.  And since comfort includes temperature, circulation, fan speed, and humidity, you can optimize all that and more.
To have a new thermostat installed to supplement your HVAC system, contact the team from B&B Heating & Air Conditioning!
With motion-sensor illumination, displays light up as you approach.  With voice control, you utilize pre-programmed commands to instruct the thermostat.  Take advantage of modern technology at it's most practical and rewarding.  Proven reliable WiFi thermostats open up amazing possibilities for simplifying everyday life, enhancing comfort, and saving money.  Attractive, user-friendly, and able to incorporate your air quality products, there's very little these innovative controls can't do.  Contact B&B Heating & Air Conditioning to update your comfort today.